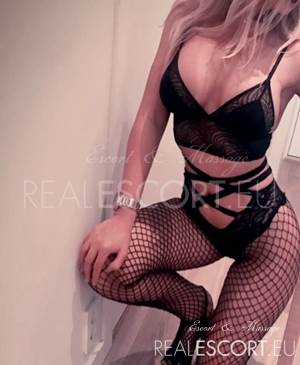 L'annonce a été validée par photo il y a 1 mois
LORELAY
Maintenant, situé dans Oslo
Infos:
Couleur des cheveux
Marron
Avis: Satisfaction globale
Bon: 50 | Mauvais: 1
Description
HELLO 😊

thanks 🙏 for seeing 👀 my profile
Hello ,
I am Lorelay, the perfect mixture between a passionate girlfriend and a sexy pornstar !
Whether you are feeling,daily stress or just curious to have me and pleasure you,just give me a call and you will not regret!!!

⛔️⛔️⛔️⛔️My prices are in good rapport with quality, as i see my self to many fake profiles, now is up to everyone what they want to choose.....
Either a good fuck😜either a bad experience..

Info about me :
~~~ 23years-old
~~~soft skin, perfumed body , perfect hair & make-up , nice manicure and pedicure
~~~sexy lingerie , secretary clothes , stockings and high-heels
~~~my photos are 100% real and recent:)
❤️
I've been described as a sensual , warm and friendly , smart girl. ...🙃
My specialty is GFE which i love it,in the same time i like to empathize with my partner and to enjoy the moments.


I am romantic and feminine,so be sure,during our date you will get seduces..i can satisfy all your wishes because i like challenges and for this i can play what role you want‼️🔝
i will like very much to receive feedback from you, it will helps me to know my self better 🤔
don't forget to read my reviews 😱😱😱


Info about location :
~~~very easy parking :)
~~~at your arrival you will be served with something to drink
~~~big nice shower , with clean towel , mouthwash and shower gel without perfume ( so no problems At home :)
***For apointments please text as i answer quicker to text



Good to know:
❌Safety and discretion are very important for me and of course for you also!!! 🙊
❌don't ask for a discount, you have no chance 🙄
❌i don't answer at private numbers❗️❗️❗️
❌I do not provide sex without condom
❌I don't accept any offense from no body
❌I don't use drugs.
❌i provide OWO but under my selection. ( safety is more important then 500/extra)
❌Check please my give/receive services..

💦💦💦If I do not answer your call, please leave a message and I will let you know when we can talk. 💦💦💦

❌❌And now for the people who know me, i just arrived back with some new great pics, full of energy,and looking forward too meet you.

❌❌PS. Girls!!! stop using my description.... by inventive...unique!!!

❌❌❌7 days in Oslo ❌❌❌

thanks 🙏
❤️❤️❤️kisses ❤️❤️❤️

High-quality service for your great pleasure !
Come with ME to 7th heaven !❤️
Contact
Tél. +47 41071133
Accepte sms: Non
Accepts WhatsApp messages: Non
Réponse du numéros secrets: Non
Dire: J'ai trouvé votre annonce sur RealEscort
Je parle:
English: Bon
---
S'il vous plaît dites-moi que vous avez trouvé mon annonce sur la www.realescort.eu
Services
Icône d'avertissement rouge signifie que le service a des instructions spéciales, cliquez pour en savoir plus.